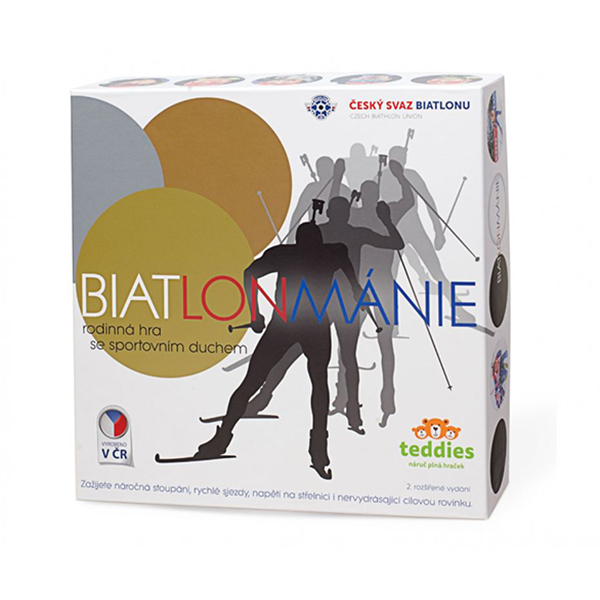 New Biathlon Mania - board game
Price / item:
549 CZK    22 EUR    [available:
107
item(s)]
---
---
Description
New Biathlon Mania is here! Atmosphere and tension come to your homes like a true biathlon with it. Play the 2nd extended edition and have fun like Michal Šlesingr or Veronika Vítková. Throw a cube and take your biathlon player forward along the World Cup lines in Nové Město na Moravě in Moravia. Climb up hills, downhill slopes, let go of the coach and do not miss the other racers. Try a sprint, a fighter plane or a relay. Do you dare play two figurines at once? This biathlon is designed just for you. With this novelty, your tactics and strategic thinking will be crucial. Another news are biatlonist card. From ten cards, draw your athlete and compete like Gabina Koukalova or Ondrej Moravec. Their abilities are your skills now. With the Biathlon game you will experience what our biathlonists are experiencing on the track. Strikes and dramas, joy and sadness. And maybe you'll sweat in this fun game!
Board game for 2 - 8 players, recommended age 6 - 99 years, game length 45 minutes or more.
The game includes:
1x playing board, 2x playing cube, 2x shooting cube, 1x relay cube, 8x biathlon figurine, 8x target, 40x black score points, 40x white points, 10x biathlon card, 1x game instructions
---
---