Prague Harley Days 10th Anniversary + Burgerfest
PRE-SALE ENDED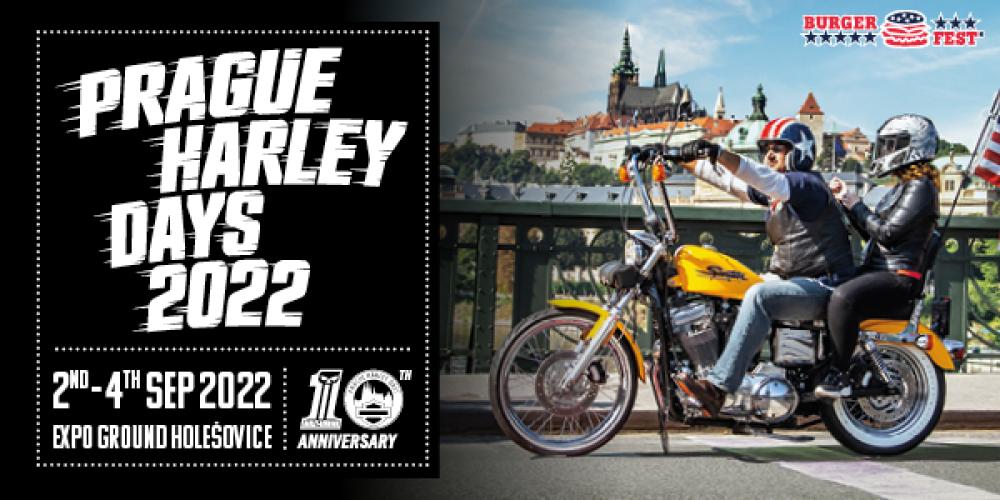 ---
Date: 02. - 04. 09. 2022 Add to Google calendar
Venue: Výstaviště Praha Holešovice
Contacts  CZ: www.pragueharleydays.cz  EN: www.pragueharleydays.cz  Facebook
---
One of the largest European festivals for fans of freedom and motorcycles will celebrate 10 years in 2022! This means 3 days in Prague of the best motorcycles, FMX adrenaline shows, stunts shows, competitions, box fights and pole dance, entertainment for children, music, burgers, beer... simply the selection of the most interesting things you've seen at Prague Harley Days since 2013!
Prague Harley Days will unite with the popular Burgerfest in 2022 again. The whole family will enjoy lots of fun with us and it doesn't matter if you come by motorcycle or by tram.
Show full description
What are Prague Harley Days about?
Harley-Davidson has been connecting people around the world for 119 years, bringing a unique driving experience. However, this American legend is not only a manufacturer of motorcycles, but above all a representative of lifestyle.
We offer to the general public at least a small taste of what we call living and enjoying in the Harley-Davidson style. So whether you ride anything or at all, come with the whole family to celebrate the end of summer with us and enjoy 3 days of motorcycles, great food and drink, live music, competitions, exhibitions of historic motorcycles or Czech Army technology and breathtaking shows - dance, cooking and adrenaline such as FMX, ... in short, a weekend full of fun for young and old with an extraordinary atmosphere.
The Harley-Davidson story
In 1903, out of a small shed in Milwaukee, Wisconsin, four young men lit a cultural wildfire that would grow and spread across geographies and generations. Their innovation and imagination for what was possible on two wheels sparked a transportation revolution and lifestyle that would make Harley-Davidson the most desirable motorcycle brand in the world. Today, we continue to define motorcycle culture and lifestyle, evoking soul-stirring emotion reflected in every product and experience we deliver - like we have for well over a century and will for generations to come. (Harley-Davidson.com)