APOKALYPSA To the Moon and back 2022
PRE-SALE ENDED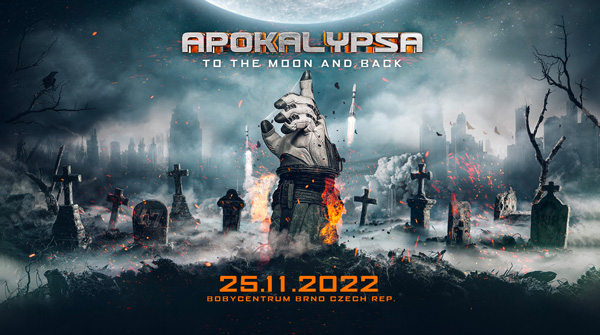 ---
Date: 25. 11. 2022 19:00 Add to Google calendar
Venue: ZONER Bobyhall Brno
Performers: I Hate Models, The Advent Live, Thomas Schumacher, Mark Reeve, Misa Salacova, Pet Duo, DJ Lukas, Nuff & Lekno
Contacts  Facebook  www.iime.co.uk  Instagram  FB Event
---
APOKALYPSA EVENT MOVE TO THE NEXT YEAR
We are really very sorry to inform you, Apokalypsa event To The Moon and Back (26. 11. 2021) is going to move to another date, to 25th of November 2022. From today is the Czech republic at the list of the "high risk countries" - and all the not vaccinated people - for example coming from Germany - must go for 10 days to quarantine.
According this - some our DJs are traveling from Germany - it's very difficult to organize this show, just with one announced stage.
This edition of Apokalypsa event To The Moon and Back will come back on the new date, on the 25th of November 2022, with all 3 stages, as was planned. All tickets what you have, are still valid for the next year edition, no needed to change them. Of course you can change your ticket for the voucher, which you can use for example for the spring Apokalypsa event (15th of April 2022). About this change we will inform you shortly. Also, we will announce soon the full line up of the spring Apokalypsa edition.
We're living in crazy times, everything change day from the day. We hope you will appreciate this change. Thank you very much for your undestanding and we wish all of you good health.